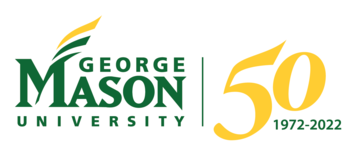 Throughout 2022, the George Mason University community will celebrate Mason's first 50 years as a university with a series of programs called "Mason at 50." From its origins as a branch campus of the University of Virginia to its current status as Virginia's largest, most inclusive, and most innovative university, Mason has experienced 50 remarkable years of growth and achievement and will cap them with a series of events that will capture the sweep of its first half century as a university.
Perhaps more importantly, "Mason at 50" represents an inflection point for this university, which will be the true focus of our celebrations, as we look to the half century ahead and focus on the university we are becoming, the students we are graduating, and the world we are helping to shape.
New Era, New Vision, New Action
"Mason at 50" will be more than an opportunity to honor our accomplishments. It will serve as a launching point for new initiatives that will chart the course of the university for the next century and beyond.
We will break ground on new buildings, offer new academic ventures, and launch unprecedented fundraising efforts. Record numbers of students will make their way to our campuses. And the future we want to build will rise in front of us.
Our goal is to capitalize on how far Mason has come to generate public pride, support, and participation in the next 50 years of Mason's story. After all, some students who enroll as freshmen next year will live to see the 22nd century—with a Mason education as their foundation. It's time to get to work building that future.
It's Mason's Time
Our rapidly changing and diversifying society is confronted with multiple grand challenges that we can no longer put off. It's time to fundamentally change how we ensure a healthy planet, healthy people, healthy economies, and healthy societies.
We will take this year to focus the public's attention on what's next for Mason, and how we will play a vital role in shaping the world to come. All units are encouraged to dedicate future-facing programming to this singular theme of building on our past to shape the future.
As Mason President Gregory Washington so memorably proclaimed in his recent investiture, it's Mason's time.
50th Event Resources
As you create marketing materials, plan events, and reach out to your communities, we ask that you incorporate the 50th Anniversary event mark and messaging into your communications. Use this site for guidance on how you can incorporate these brand themes in your messaging.
50th Anniversary Hashtag - #Mason50 
Throughout the year, show your GREEN and GOLD(EN) spirit! Share your memories and accomplishments on social media. Use the hashtag #Mason50 to link your posts with this global celebration while celebrating the golden anniversary of George Mason University.
Content Tagging
Use the topic tag Masonat50 in the content hub for relevant stories.
Marketing Guides
Throughout Mason's anniversary year, the Office of University Branding will be rolling out marketing campaigns in support of key anniversary events. To help inform and engage our network of university marketers, we will provide guides for specific campaigns.
Need Help?
Have questions about something found in this guide? Creative Services is here to help: creative@gmu.edu.